Vazhaipoo (Banana Flower) is used to make a variety of delicious dishes. This poriyal is tasty, healthy and best served with rice.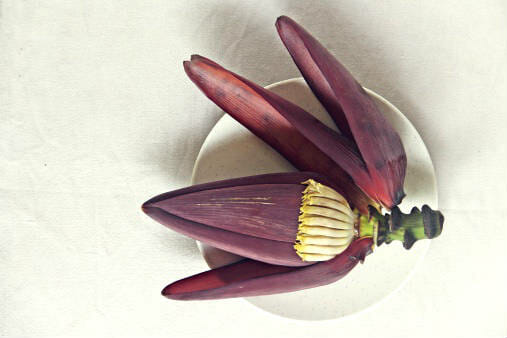 Ingredients:
Vazhaipoo (Banana Flower) – 1, medium
Buttermilk – 1 tblsp
Turmeric Powder – 1/2 tsp
Toor Dal – 1 tsp
Coconut – 2 tblsp, grated
Sugar – a small pinch
Gingely Oil – 2 tblsp
Salt as per taste
For Tempering:
Mustard Seeds – 1/2 tsp
Urad Dal – 1 tsp
Dry Red Chilli – 1, broken
Asafoetida Powder – a pinch
Green Chillies – 2, slit
Curry Leaves – few
Ginger – a small piece, peeled, minced
Method:
1. Cook the toor dal with half of the turmeric powder and enough water.
2. Remove the layers of the flower and break each flower.
3. Discard the hard pistil and finely chop.
4. Add the remaining turmeric powder to a pan of water and place it over medium flame.
5. Add the chopped banana flowers and cook until soft.
6. Add buttermilk and salt.
7. Simmer for a few minutes until the banana flowers are cooked.
8. When all the water has evaporated, remove the pan from flame.
9. Heat oil in a pan.
10. Add mustard seeds, urad dal, red chilli and asafoetida powder..
11. Fry for 30 seconds.
12. Add the green chillies, curry leaves and ginger.
13. Add the cooked and stirfry for a minute.
14. Add the cooked vazhaipoo and grated coconut.
15. Cook for 2 to 3 minutes and remove.
16. Serve hot as a side dish to rice.