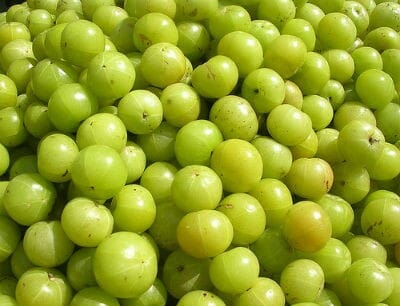 Ingredients:
Toor Dal – 1 cup
Nellikai (Amla/Gooseberry) – 1/4 cup, chopped, seeds removed
Sambar Onions – 10, chopped
Tomato – 1, chopped
Green Chillies – 2, chopped
Sambar Powder – 2 tsp
Fenugreek Seeds – 1/4 tsp
Coriander Seeds – 1/4 tsp
Coriander Leaves – few
Salt as per taste
Oil as required
For tempering:
Mustard Seeds – little
Urad Dal – little
Bengal Gram Dal – little
Asafoetida Powder – a pinch
Curry Leaves – few
Method:
1.Dry roast the fenugreek seeds, coriander seeds and toor dal.
2. Grind the coriander seeds to a coarse powder.
3. Heat 1/8 tsp of oil a pan over medium flame.
3. Add the fenugreek seeds, toor dal and coriander seeds with enough water.
4. Add onions, tomatoes and green chillies.
5. Add sambar powder, salt and cook for 8 to 10 minutes.
6. Add nellikai and bring to a boil.
7. Garnish with coriander leaves.
8. Serve hot with rice.
Tip: Instead of water, you can use 1/2 cup of thin tamarind extract.