Delicious rose flavoured Jalebis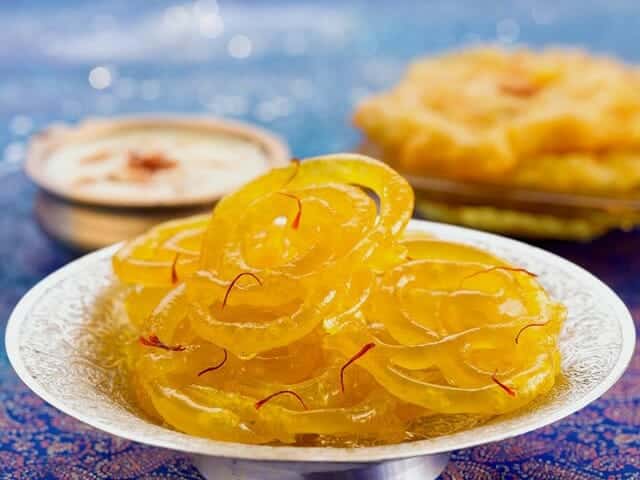 Ingredients:
Maida – 100 gms
Corn Flour – 2 tblsp
Gram Flour – 1 tsp
Curd – 50 gms, whisked
Sugar – 1 cup
Rose Essence – few drops
Orange Food Colour – few drops
Cooking Soda – a pinch
Oil – 250 ml
Method:
1. Add 1/2 cup of water and little food colour to sugar.
2. Bring to a boil.
3. When it reaches an one string consistency remove from flame and add rose essence.
4. Combine maida, corn flour, gram flour, curd, cooking soda and little food colour.
5. Add little water and mix well to an idli batter consistency.
6. Add some of the batter to a plastic bag and make a small hole at the other end.
7. Heat oil in a pan.
8. Squeeze the plastic bag over hot oil to form a spiral shape (jalebi).
9. Fry till golden brown and crisp.
10. Remove and drop it into the sugar syrup.
11. After 45 seconds, remove and transfer to a plate.
12. Serve.