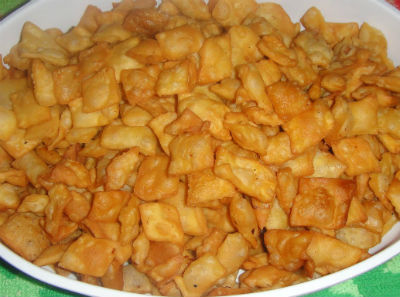 Ingredients:
Wheat Flour – 1 cup
Salt – 1/2 tsp
Black Pepper Powder – 1 tsp
Ghee – 1/2 tsp
Asafoetida Powder – 1/4 tsp
Oil – 1/4 tsp
Method:
1. Sieve the flour well.
2. Add salt, pepper powder and asafoetida powder.
3. Gradually add a little water and knead well to a chapati dough consistency.
4. Add ghee and knead again.
5. Make small balls of the dough and roll them into medium sized chapatis.
6. Cut the chapatis into small diamond shapes and keep aside.
7. Heat oil in a frying pan over medium flame.
8. Fry the diamond cuts till golden.
9. Remove and drain excess oil.
10. Serve as a snack or add them to mixture.