Paneer is the common cottage cheese available in all households and is added to make yummy dishes that touch our heart and tongue. You may have made and tasted various dishes of paneer and might be a great fan of its creamy flavor and taste. What I present here is a list of the popular dishes of paneer, some of which might be familiar to you and some may invite you to try.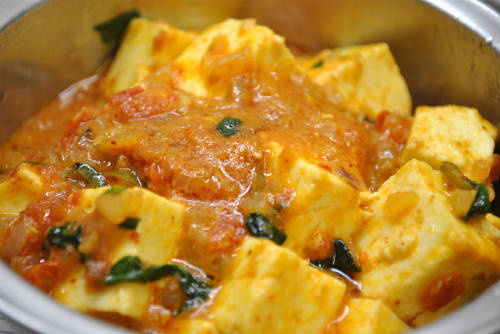 Kadai Paneer: Goes well with chapatti or roti – this is a dry Punjabi dish made of paneer and capsicum.
Paneer Butter Masala: The cottage cheese cubes in tangy tomato gravy with the richness of butter and cashew paste – again a Punjabi dish suitable for roti or rice.
Paneer Tikka: When cooked on the barbecue, these paneer tikkas taste delicious and crisp with spicy ingredients.
Palak Paneer: It is a medley of greens and fresh vegetables with paneer – good for health with nourishing taste.
Mughlai Paneer: A typical Mughali cuisine with an exotic combination of almond sauce and dry fruit combination with paneer cubes.
Paneer Pasanda: Paneer stuffed in gravy which is creamy and rich in nuts.
Paneer Bhurji: A fine dish of paneer, onion and tomatoes with added spices.
Shahi Paneer: It is a typical North Indian dish – paneer cubes being cooked in the base of thick tomato gravy with the added flavors of spices making the dish rich.
Dingri Paneer: Paneer in the combination of mushrooms, and is tasty for the cashew nut base it has. The flavors of onion, tomato and spices add to the fundamental taste of mushroom.
Grilled Paneer with Gourd Gravy: Paneer with bottle gourd puree and tomato puree – different taste with the rich ingredients of spices.
Mutter Paneer: An all time favorite of many people- it is loved for fresh peas and paneer cubes mixed in a grand texture of spices and tomato base.
Paneer Keema Sandwich: Grated paneer cooked with onion and tomato and stuffed in-between bread slices – a good breakfast item to taste.
Paneer Vegetable Jalfrezi: It is a mixed vegetable curry with paneer as main ingredient- savors well for the different flavors of various vegetables it has.
Chili Paneer: Those who want a bit of hot dishes can try this – a dish made in the combination of paneer cubes, green chilies, capsicum and tomato with onion.
Methi Paneer Puri: made of plain flour, kasturi methi and paneer – different in taste and you feel somewhat away from the routine puri.
Paneer Pakora: This is also a fried item, a good evening snack and good for children for the benefit of paneer in it.
Paneer Capsicum Pizza: It can be the home made pizza with all purpose flour and the seasoning of paneer stuff upon it – yummy and children's favorite.
Malai Kofta: These are the paneer dumplings which are very soft in creamy cashew base – interesting to eat and delicious to touch and taste.
Paneer Jalebi: A fine cuisine recipe with maida flour, sugar and paneer and is mouthwatering for its palatable taste.
Paneer Cutlet: Like common vegetable cutlet, paneer cutlet is famous for the crunchy paneer cubes being tasted with added spices.
It is all the magical hand of a cuisine expert, who can innovate many a dish with any common ingredient available to him. Paneer is every cook's friend, available in any kitchen, once you know the trick to prepare it. It works wonders as a main ingredient in gravy or as an additional flavor maker in a main dish or as a snack like pakora or cutlet. Taste, prepare and enjoy the different varieties of paneer dishes and add color to your kitchen and dining table.
image credit: easyrecipeworld.com