Want to do something new and impress your partner? Do you wish to look different and apart from others? Here are some tips for romantic and exclusive dining on the day.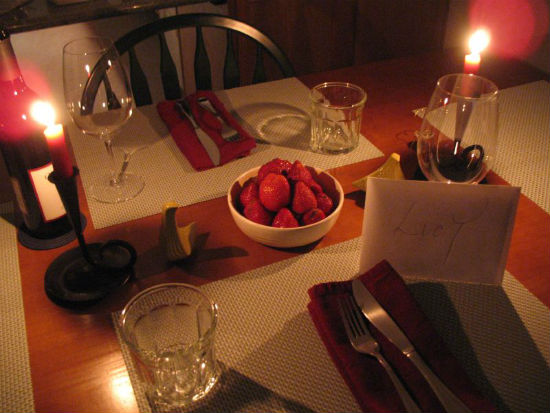 Redden your food!!
Red is all about love. Let your appetizer be red peppered soup which will be terrific in your taste. Or get along with our traditional tomato soup. There too, the cold one adds to the color of red and the mood of the day. Add additional choices like a shrimp in the bed of red cocktail sauce and salads made of red cabbage, red onions in the combination of dried cranberry fruits. Red is bright and beautiful and speaks the language of heart to heart through its splendor.
Have heart shaped food items!
We all know the heart is the signal of love and transmitter of one to one love. Add heart shaped food varieties to improve the love touch in your menu. Heart mould is easy to make, be it a pizza or a round of Brie or soft cheese or ravioli. They attract the eye and the heart of your partner and others. Similarly, arrange for heart shaped breads and sandwiches and a completing dessert can be a chocolate cake or chocolate brownie, cut with heart shape. Have a centerpiece that is heart shaped and red colored, be it a box of chocolates or any other thing. Wonderful to see, relish and realize the value of love. Make love atmosphere all around and enjoy it with its deeper interpretations.
Romantic candlelight dinner!
Want to have an exclusive dinner with your spouse for the Valentine's? Be it your personal one? Take these tips to dine at home in an environment of intimacy and made for each other mood and enjoy the day to the brim. Cook all the favorite recipes of your beloved and if cooking is not your front, buy from her/his favorite restaurant. Set the table wonderfully with an awesome cloth and arrange the candles well in an attractive design to spell your heart's words. It will be fine, if you print a menu card exclusively for your partner who can sense the specialty of the day and the way you express it to her/him. A non-alcoholic beverage or white wine can be a fine starter to bring in the tone of the setting. Add to the tone by playing soft music in the background. Sit, chat, dine and relish the exquisite moment with memories of the past. Realize the value of oncoming Valentines in future.
Make it too special with a suitable outfit.
Add aphrodisiacs to set the mood!
Some natural aphrodisiacs are overtime favorites to enhance the drive for the day. Valentine's is more for it and the romantic setup. Oyster is a natural dish that adds flavor to the romantic mood and the dining atmosphere. Bring chocolate to blend an atmosphere of intimacy, privacy and enjoyment. Fill in mead to drive your desires home. You can altogether bring in a setting of love, romance, intimacy and desire.
Cocktails – messengers of Love
Impress your partner with unique cocktail drinks and show the best of the moment. Chocolate, strawberry, champagne is always in cocktail recipes, as they leave a pleasant taint to the dinner table. Their taste is delicious and additional in cheering the mood of the valentine.
Well, it is all set –the table, recipe, cocktail and a scintillating backdrop. It is you and your spouse at the best and unforgettable day or night of the year. Words can speak volumes of your love, but gestures which are special and intimate are the signals of your heart. Prove your heart through your gestures on this Valentine's Day!