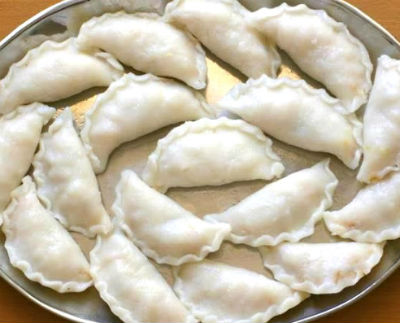 Ingredients:
Raw Rice Flour – 2 cups
Gingelly Oil – 1 tsp
Salt – a pinch
Kadalai Paruppu (Chana Dal) – 1 cup
Jaggery – 1 cup
Cardamom Powder – 1/4 tsp
Coconut – 1/4 cup, grated, roasted
Method:
1. Boil 2 cups of water in a pan.
2. Add salt, gingelly oil and rice flour.
3. Stir well, ensuring no lumps remain, until thickened.
4. Remove and keep aside.
5. Pressure cook the kadalai paruppu and mash well.
6. Powder the jaggery and mix with water. Strain to remove impurities.
7. Add the mashed dal to the strained jaggery water and stir.
8. Add cardamom powder and coconut.
9. Mix well until it is slightly sticky and thick.
10. Shape the mixture into small balls and keep aside.
11. Shape the rice flour mixture into small cups and add one of the balls.
12. Fold well and shape them into desired sizes.
13. Steam cook the kozhukattais for 10 minutes and remove.
14. Serve.
Note: image is for illustration purposes only and not that of the actual recipe.