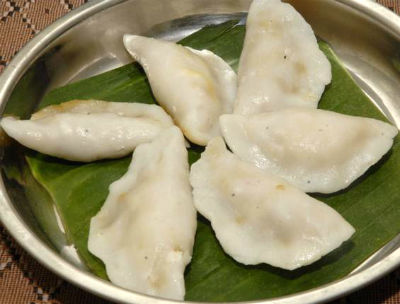 Ingredients:
Raw Rice Flour – 200 gms
Palgova – 100 gms

Method:
1. For 1 portion of flour, add 3/4 portion of water and bring to a boil.
2. Add the flour and stir till it thickens.
3. Remove and then shape them into small cups.
4. Place some of the palgova and cover well.
5. Steam cook in a pressure cooker till done.
6. Remove and serve.
Note: Palgova/Palkova is a South Indian milk sweet made with boiling milk and sugar. It is also available in most major supermarkets or sweet stalls.
Note: image is for illustration purposes only and not that of the actual recipe.