Jalebi is a popular sweet across the Indian subcontinent. A traditional sweet the jalebis are deep fried and then soaked in a sugary syrup. This variation is made using wheat flour.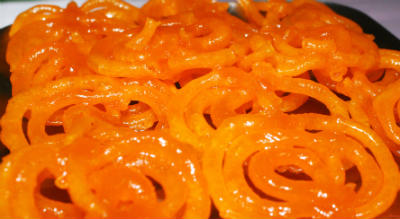 Ingredients:
Wheat Flour – 1/4 cup
Maida – 1/4 cup
Unsweetened Khoya – 1/2 cup
Sour Curd – 2 tblsp
Kesari Powder – 2 pinch
Sugar – 2 cups
Cardamom Powder – 1/4 tsp
Rose Essence – little
Cooking Soda – a pinch
Coconut – few, grated
Oil as required for frying

Method:
1. Combine the wheat flour, maida, khoya, curd, cooking soda and little water in a bowl.
2. Mix well till it has a thick idli batter consistency.
3. Keep aside for 2 hours.
4. Heat oil in a nonstick frying pan.
5. Pour the batter into a coconut shell or a jalebi cloth with a hole.
6. Squeeze the batter over the hot oil into round spirals.
7. Fry till golden brown and crisp.
8. Remove and keep aside to drain excess oil.
9. In a separate pan, mix sugar with 1/2 cup of water and simmer till it has a one string consistency.
10. Add 1 tsp milk and remove the scum that rises to the top.
11. Add the cardamom powder, rose essence, kesari powder and stir well.
12. Remove from the pan and add the jalebis.
13. Let them soak for 2 to 3 minutes and remove to a plate.
14. Garnish with grated coconut.
15. Serve or store in an airtight container.