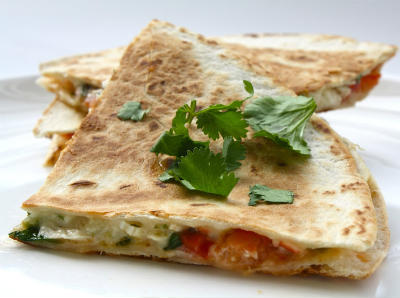 Ingredients:
Roast Chicken – 250 gms, skinned, shredded
Barbecue Sauce – 2 tblsp
Mozzarella Cheese – 1/2 cup, shredded
Sweet Corn Kernels – 1/4 cup, soaked, drained
Spring Onions – 1/2 cup, chopped
Tortillas – 3 or 4
Butter – 1 tblsp
Onion – 1, small, sliced
Mushrooms – 100 gms, sliced
Capsicum – 1, small, sliced
Red Chilli Powder – 1/2 tsp
Salt as per taste
Pepper Powder as per taste
Sour Cream to serve
Salas to serve
Method:
1. Combine the chicken and barbecue sauce in a bowl.
2. Mix well and keep aside.
3. Heat butter in a pan over medium flame.
4. Saute the onions, mushrooms and capsicums for 5 to 6 minutes or until the onions are translucent.
5. Sprinkle salt, pepper powder and red chilli powder.
6. Remove and keep aside.
7. Lay the tortillas on a flat surface.
8. Spoon a portion of the chicken and vegetables on one side.
9. Sprinkle some cheese, spring onions and sweet corn on top.
10. FOld and press lightly.
11. Heat a nonstick pan over medium flame.
12. Cook the prepared quesadillas for 3 to 5 minutes on each side or until golden brown and cheese has melted.
13. Remove and slice them into wedges.
14. Serve with salsa and sour cream.
Note: You can also bake them in an oven for 5 minutes.
image credit: seasaltwithfood.com
Subscribe to our Newsletter
Receive the latest recipes & kitchen tips !