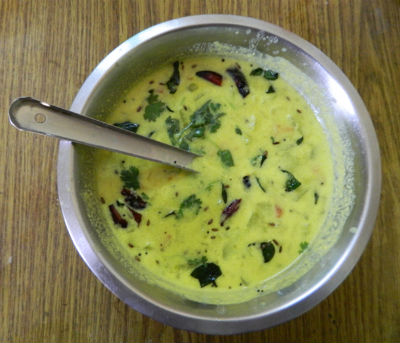 Ingredients:
Kambu (Bajra) Flour – 1/4 cup
Curd – 1 cup, thick, sour, whisked
Green Chillies – 6, slit
Asafoetida Powder – 1/4 tsp
Turmeric Powder – 1/4 tsp
Fenugreek Seeds – 1 tsp
Cumin Seeds – 1 tsp
Mustard Seeds – 1 tsp
Oil – 2 tsp
Coriander Leaves – few
Salt as per taste
Method:
1. Combine the curd, kambu flour, salt and turmeric powder in a pan.
2. Mix well.
3. Heat oil in a pan.
4. Fry the mustard seeds, fenugreek seeds, cumin seeds, asafoetida powder and green chillies for a minute.
5. Pour this into the curd mixture and place the pan over medium flame.
6. Cook till the raw smell disappears or for 3 to 5 minutes.
7. Bring to a boil and remove from flame.
8. Serve hot with rice.
Note: image is for illustration purposes only and not that of the actual recipe.