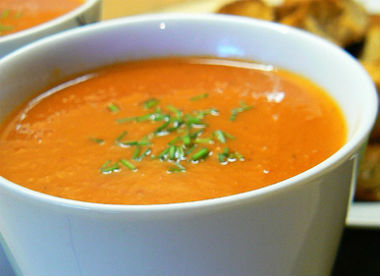 Ingredients:
Red Capsicums – 2 to 3, large
Garlic – 2 cloves, minced
White Onion – 1, small, finely chopped
Water – 1 1/2 cups
Cream – 1/4 cup
Salt as per taste
Black Pepper Powder as per taste
Fried bread pieces for garnish
Method:
1. Grill the capsicums until the skins are charred and blackened.
2. Keep aside for a minute.
3. Remove the skins and seeds.
4. Chop the capsicums and reserve until required.
5. Saute the garlic in a pan.
6. Add the onions and fry for a minute or two.
7. Add the chopped capsicums and water.
8. Bring to a boil.
9. Then transfer to a blender and puree until smooth.
10. Strain into a pan and add cream.
11. Mix well and simmer for 3 to 4 minutes until warmed up.
12. Add salt and pepper powder.
13. Pour into individual serving bowls.
14. Garnish with bread pieces.
15. Serve warm.
image credit: flickr