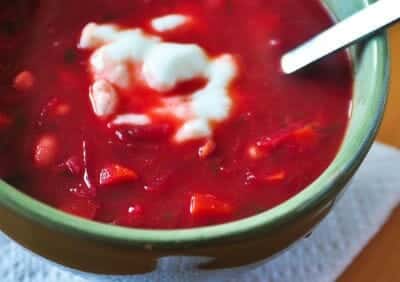 Ingredients:
Beetroots – 250 gms
Onion – 1, small, chopped
Garlic – 1 small clove, crushed
Bay Leaf – 1
Olive Oil – 1 tblsp
Red Wine Vinegar – 1/2 tblsp
Vegetable Stock or Water – 300 ml
Spring Onions – 2, finely sliced
Celery Stalk – 1, finely sliced
Carrot – 1, sliced
Cream – 1 tblsp
Salt as per taste
Black Pepper Powder as per taste
Method:
1. Add the beetroots and bay leaf to a large pot.
2. Pour enough water till the beetroots are fully covered and cook for an hour until tender.
3. Remove and cool.
4. Peel the skin and cut into small pieces.
5. Heat oil in a pan.
6. Saute the onions and garlic until soft.
7. Add the vinegar and beetroots.
8. Pour the vegetable stock and simmer for 20 minutes.
9. Puree the soup and keep aside to cool. You can keep it in the fridge if serving cold.
10. Transfer into individual serving bowls.
11. Garnish with the sliced vegetables and a dollop of cream.
12. Serve.