Eid ul Fitr or the "festival of fast breaking" is the most popular of all Muslim festivals. After a month long fasting, its the time for feasting. Ramadan is the time to appreciate the gift of life gratuitously bestowed by magnanimous Allah and celebrate his grace with delicious foods. Add some charm to this holy time with some special recipes for Ramadan.
Every home prepares delicious food on this special occasion. Here are some magnificent recipes that are every gastronomist's delight.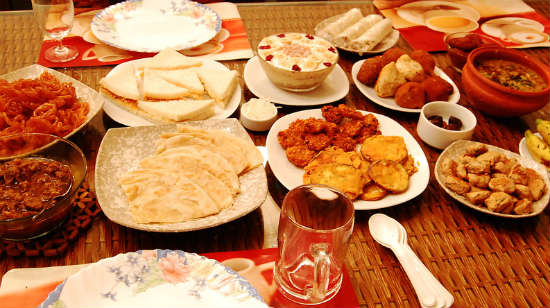 Aloo Keema
Ingredients required: Half kg of ground meat and potatoes, three sliced onions, four sliced green chilies, six whole black peppers, one bunch of chopped coriander, one cup oil, salt, and one teaspoonful each of turmeric, red chili and ginger garlic.
Process: Fry onions in heated oil till they turn golden. Sauté the mixture made by adding the ginger garlic paste, turmeric powder, red chili powder and salt to taste. Next, put in minced meat and cook till the moisture goes off completely. Sauté briefly after adding cubed potatoes. Pour one cup of boiling water and add black pepper. Cook till the potatoes become tender. Serve the lip-smacking delicacy after garnishing with green chilies and coriander.
Keema Hari Piyaz
Ingredients:Half kg chicken mince, 2 sliced onions, half cup oil, one tbsp each of ginger garlic paste, salt, coriander powder, dry fenugreek, cumin seeds, crushed red pepper, turmeric, chopped spring onion, brown onion, 2 chopped tomatoes, and 2 tbsp. of chopped coriander leaves.
Process: Fry onion in heated oil till it assumes golden hue. Fry comprehensively after adding ginger garlic paste and minced meat. Add the spicy ingredients indicated above and fry till oil floats on top. Once the aromatic dish is prepared, mix the ingredients well once and serve hot with naan.
Khajla
Take flour and mix it with one and half cup of water with soft hands. Properly knead the dough and leave the same for ten minutes. Have the dough rolled with ghee in it. Leave it for ten minutes. Cut the preparation and leave the same for five minutes. Now roll the chunks like roti and place them in hot ghee. Pour ghee on the preparation slowly and fry. Serve hot.
Pancake roll recipe
Ingredients: 1 egg, 1 cup flour, half cup milk, salt, water, 1 cup boiled chicken, 4 tbsp. Mayonnaise and black pepper.
Process: Take flour, egg, salt to taste in a bowl and mix with milk and water till a thick liquid is formed. Take a pan with oil spread within it. Pour the mixture with dip spoon and fry till bread like shape is made. Fill the same with chicken and roll.
Aloo Bharee Mirchi Ke Pakore
Ingredients: 1 large green chili, 1 large boiled potato, half tsp. of turmeric, red chili powder, cumin seeds, coriander seeds, salt, one chopped onion, chat masala, coriander leaves, gram flour, oil, soda water.
Process: Scrape the seeds out of chili by making a slit. After grating the potato, add turmeric, red chili powder, salt, cumin seeds, crushed coriander seeds, chopped onion, grated ginger and chat masala. Prepare the filling by mixing all the ingredients with coriander leaves. Make the batter by putting gram flour, turmeric, red chili powder, salt and soda water in a bowl. After mixing well, leave it for half an hour. Put the potato mixture in deseeded chili and coat it with batter mix. Heat oil in pan and deep fry the chilies till they assume golden brown color. Serve hot with condiments.
Chicken Fried Kebab with Banana Green Chili Chutney
Ingredients: 300g minced chicken, 1 chopped onion, 2 green chilies, a bunch of coriander leaves, salt, 1 tsp. black pepper, deseeded tomato, 1 cup plain flour, 2 eggs, 1 cup corn flour, water, oil, 3 bananas, 3curry leaves. 2 green chilies, 2 boiled red chilies, half cup orange juice, ½ tbsp. turmeric and mustard seeds, and few coriander leaves.
Process: Take a bowl and prepare a mixture by adding one cup each of plain and corn flour, salt, two eggs and water. Stir the mixture till a thick batter takes shape. Chop 1 onion, 1 tomato, 1/4 coriander leaves, 2 green chilies, 300g chicken mince, salt and 1/2tsp black pepper powder together in a food processor. Once the mixture is smooth, have the meat divided in equal parts and shape them in small round kebabs form. Coat each kebab in the plain flour. Deep fry the kebabs in an oil smeared pan.
Grind ½ tsp mustard seeds, 2 curry leaves, 3 green chilies, 3 boiled red chilies, 1/2 cup orange juice, 1/4tsp turmeric, coriander leaves, salt to button and water together to prepare banana green chili chutney. Once the mixture assumes a uniform consistency, put 3 peeled bananas in it. Pour the preparation in a wok and fry in oil. Serve the kebab with chutney.
Click here for more Ramadan special recipes that you can prepare at your home on this festival.