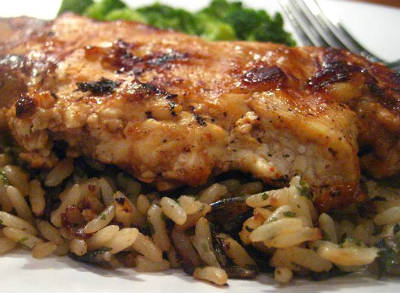 Ingredients:
Olive Oil – 3/4 tblsp
White Onion – 1, medium, sliced
Garlic – 2 to 3, finely chopped
Rajma – 200 gms, soaked in 1/2 tsp salt water, drained
Spice Powder – 1/2 tblsp + 1/2 tsp
Rice – 1 to 2 cups, cooked
Coriander Leaves – 2 sprigs, chopped
Salt as per taste
For the Chicken:
Chicken Fillets – 200 gms
Spice Powder – 1 tblsp
Oil for frying
For the Spice Powder:
Chilli Powder – 1 tblsp
Garlic Powder – 1/4 tsp
Onion Powder – 1/4 tsp
Red Chilli Flakes – 1/4 tsp
Oregano – 1/2 tsp
Paprika – 1/2 tsp
Cumin Powder – 1/2 tblsp
Salt – 1/4 tsp
Pepper Powder – 1 tsp

Method:
1. Combine all the spice powder ingredients in a bowl and mix well.
2. Adjust the quantity as needed and keep aside until required.
3. Heat olive oil in a pan over medium flame.
4. Saute the onions and garlic until onions are translucent.
5. Add the rajma and 1/2 tblsp spice powder.
6. Mix well.
7. Add the rice and stir until thoroughly mixed.
8. Cook for about 5 to 10 minutes.
9. Add coriander leaves, salt and stir well.
10. Remove from flame and keep aside warm.
11. Sprinkle the spice powder on the chicken fillets and keep aside for 2 to 3 minutes.
12. Heat little oil in a pan over medium flame.
13. Fry the chicken fillets until cooked through.
14. Slice into strips and serve with the rice.
Note: image is for illustration purposes only and not that of the actual recipe.