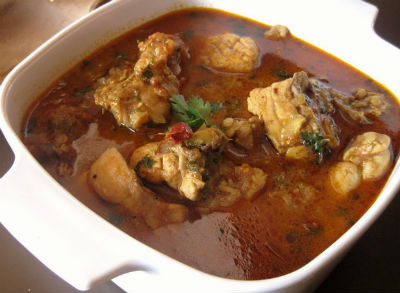 Ingredients:
Chicken – 250 gms, chopped into small bite sized pieces
Oil – 2 tblsp
Onions – 1 to 2, chopped
Ginger – 1 one inch piece, julienned
Salt – 1/2 tsp
Tomatoes – 2, chopped
Curry Leaves – handful
Grind to a fine paste:
Small Onions – 4 to 5, chopped
Ginger – 1 one inch piece, chopped
Garlic – 3 to 4 cloves, chopped
Dry Red Chillies – 4 to 5, broken into pieces
Cumin Seeds – 1/2 tsp
Fennel Seeds – 1/2 tsp
Black Peppercorns – 8 to 10
Turmeric Powder – 1/4 tsp
Water – 1/8 cup
Method:
1. Wash the chicken pieces and drain.
2. Heat oil in a pan.
3. Fry onions till translucent.
4. Add the ground paste and fry for a minute.
5. Remove half of the contents from pan and keep aside.
6. Add the chicken pieces, ginger and salt.
7. Saute till chicken is cooked.
8. Add the tomatoes, curry leaves and 1/2 cup of water.
9. Cook over low flame till oil separates.
10. Add the reserved onion-ground paste and stir.
11. Remove from heat.
12. Serve hot with rice.
image credit: Ruchik Randhap