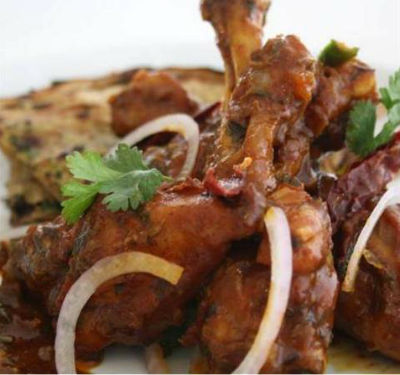 Ingredients:
Chicken – 500 gms, chopped, cleaned, washed
Cinnamon – 1/4 inch stick
Cumin Seeds – 1/2 tsp
Cloves – 3
Cardamoms – 3
Bay Leaf – 1, small
Garlic – 5 to 6 cloves
Dry Red Chillies – 6, round variety, soaked for 30 minutes in water and drained
Turmeric Powder – 1/4 tsp
Coriander Powder – 1/2 tsp
Sugar – 1/4 tsp
Vinegar – 1 tsp
Curd – 1/2 cup, whisked
Lemon Juice – 2 tsp
Coriander Leaves – hanful, chopped
Salt as per taste
Mustard Oil – 2 tblsp
Method:
1. Heat oil in a pan over medium flame.
2. Add the cardamoms, cloves, cumin seeds, cinnamon, red chillies and bay leaf.
3. Saute well for 30 to 45 seconds.
4. Add the garlic and fry till golden brown.
5. Add the turmeric powder and coriander powder.
6. Sprinkle a little water and cook till the masala has a rich, brown colour and oil floats to the top.
7. Add the chicken pieces and fry till golden and well mixed with the masala.
8. Add salt, sugar and vinegar.
9. Saute until the chicken pieces are rich golden brown.
10. Reduce flame and cover the pan with a lid.
11. Simmer for 30 minutes and stir well to mix.
12. Add the curd and fry till the curd has been absorbed.
13. When the gravy is thick and chicken is well coated with the masala, reduce flame once again and cover with a lid.
14. Simmer for another 15 minutes or until the chicken is cooked.
15. Mix well and add the lemon juice.
16. Garnish with coriander leaves.
17. Serve hot with roti.
Note: image is for illustration purposes only and not that of the actual recipe.
Image credit: cityguide.in