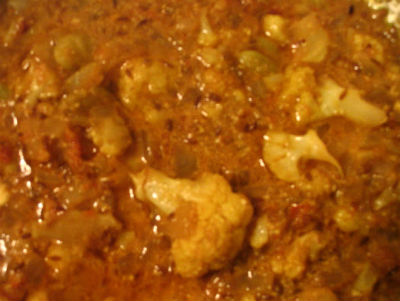 Ingredients:
Eggs – 5
Cauliflower – 1, small, cut into small pieces
Onion – 1, finely chopped
Green Chillies – 2, small, chopped
Black Pepper Powder – 1/4 tsp
Curry Leaves – a bunch
Coconut – 1/2 cup, grated
Garlic – 2 cloves
Mustard Seeds – 1/4 tsp
Saunf – 1/4 tsp
Salt as per taste
Oil as per taste
Method:
1. Soak the cauliflower pieces in salted water for a few minutes.
2. Combine the coconut, green chillies, garlic and saunf. Then grind to a fine paste.
3. Heat little oil in a pan.
4. Fry the mustard seeds for 20 to 30 seconds.
5. Add the ground paste, onions and cauliflower.
6. Stir well.
7. Add salt and pour 1/4 cup of water.
8. Simmer for a few minutes until cauliflower becomes tender.
9. Add pepper powder and simmer for a minute.
10. Break the eggs into the pan and stir to mix well.
11. Cook for a minute more.
12. Remove and serve hot.
Note: image is for illustration purposes only and not that of the actual recipe.