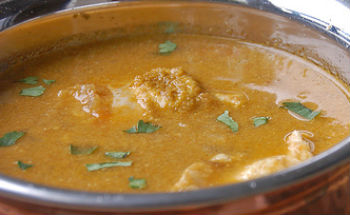 Ingredients:
Eggs – 4
Sambar Onions – 3/4 cup, peeled
Tomato – 1
Green Chillies – 1
Garlic – 5 cloves
Turmeric Powder – 1/4 tsp
Saunf – 1/4 tsp
Red Chilli Powder – 1/2 tsp
Mustard Seeds – 1/4 tsp
Fenugreek Seeds – 1/4 tsp
Tamarind Extract – 1 cup
Curry Leaves – few
Coriander Leaves – few
Oil – 3 tsp
Salt as per taste
Grind together #1:
Sambar Onions – 4, peeled
Tomato – 1
Garlic – 5 cloves
Cumin Seeds – 1/4 tsp
Saunf – 1/4 tsp
Grind together #2 (without adding water):
Peppercorns – 1/4 tsp
Coconut – 2 one inch pieces
Cumin Seeds – 1/4 tsp
Green Chilli – 1
Method:
1. Break the eggs in a pan.
2. Add the ground ingredients #2 and mix well.
3. Heat a tawa over medium flame.
4. Make omelettes using the egg mixture and keep aside to cool.
5. Cut the omelettes into bite sized pieces and keep aside.
6. Heat oil in a pan over medium flame.
7. Fry the mustard seeds, fenugreek seeds and saunf for 30 seconds.
8. Add the sambar onions, curry leaves, chopped tomatoes and garlic.
9. Saute until thickened.
10. Add the ground ingredients #1.
11. Now add turmeric powder, red chilli powder and salt.
12. Mix well.
13. When the oil starts to separate pour the tamarind extract and bring to a boil.
14. Cook until it starts to thicken.
15. Add the chopped omelettes and cook for another 2 minutes.
16. Garnish with coriander leaves.
17. Serve with rice.
Tip: If the kuzhambu is too thick, add 1 cup of water (or as desired) at step 14.