A popular Russian dish often served with noodles or rice.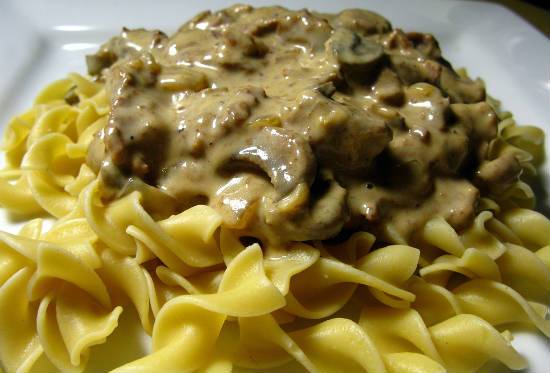 Ingredients:
Flank Steak – 225 gms, thinly sliced
Olive Oil – 1 tblsp
Egg Noodles – 175 gms, cooked as per packet instructions
Onion – 1/2, medium, finely sliced
Green Capsicum – 1, small, finely sliced
Mushrooms – 50 gms, sliced
Sour Cream – 1/2 cup
Steak Sauce – 1 tblsp
Worcestershire Sauce – 1 tsp
Salt as per taste
Black Pepper Powder as per taste
Method:
1. Heat 1/2 tblsp oil in a large pan.
2. Sprinkle some salt and pepper on the steak.
3. Place it in the pan and cook until browned, a minute each side.
4. Keep aside
5. Heat the remaining oil.
6. Saute the onions and capsicums for 5 minutes.
7. Add mushrooms and beef.
8. Cook for a minute.
9. Separately mix the sour cream, steak sauce and worcestershire sauce.
10. Pour this into the pan and stir well.
11. Place the noodles in a serving plate.
12. Spoon over the beef mixture and serve.