The Lebanese cuisine is a mix of European cuisine and Middle Eastern flavours. They are not only delicious but also has a rich variety because of its varied influence.  As the weather is getting warmer, enjoy the summer with this easy to make Lebanese style Chicken Wraps. Serve with a salad of choice.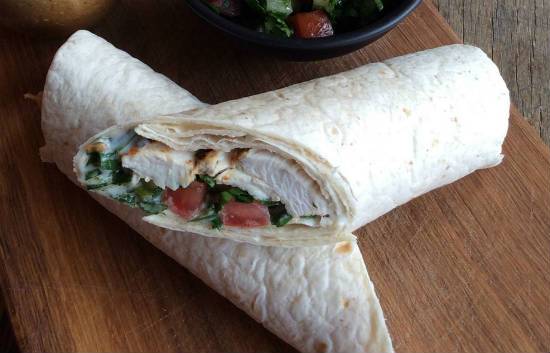 Ingredients:
Chicken Breasts – 2, skinless
Plain Yogurt (or Greek) – 100 gms
Tomato – 1, chopped
Cucumber – 1/4 cup, chopped
Tortillas – 2, large
Almonds (or Cashew Nuts) – 1 tsp, toasted
Parsley (or Coriander Leaves) – handful, finely chopped
Juice and Zest of 1 small Lemon
Garam Masala Powder – 1/2 tsp
Olive Oil – 1 tsp
Garlic – 1 clove, crushed
Salt – as per taste
Method:
1. Mix half of the yogurt, half of the lemon juice, lemon zest, garam masala powder, olive oil, garlic and salt in a bowl.
2. Cover the chicken in a parchment paper and using a rolling pin, flatten it well.
3. Add this to the bowl and mix well until evenly coated.
4. Cover and keep it in the fridge for 15 to 30 minutes.
5. Heat a griddle pan over medium flame.
6. Cook the marinated chicken for 5 minutes on each side or until cooked.
7. Remove and cut into bite-sized pieces.
8. Warm the tortillas and place them on a flat surface.
9. Spread the remaining yogurt and top up with chicken, almonds, tomatoes and cucumber.
10. Sprinkle the remaining lemon juice and wrap it up tightly.
11. Place it on a pan and cook for 30 seconds.
12. Serve warm with a salad of choice.