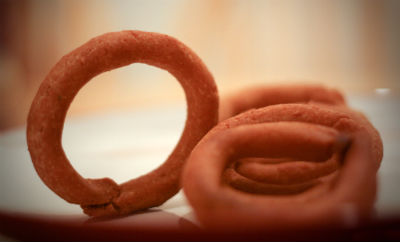 Ingredients:
Rice Flour – 2 cups
Pepper Powder – 2 tsp
Urad Dal Flour – 1/4 cup
Butte – 2 tblsp
Oil as required
Salt as per taste
Crushed Peanuts – 1/4 cup (optional)
Method:
1. Mix butter and salt in a bowl.
2. Add rice flour, urad flour, pepper powder and mix well.
3. Make small balls of the mixture and roll them into small sized strings.
4. Combine the edges to make into small rings.
5. Heat oil in a frying pan.
6. Deep fry the rings until dark brown.
7. Remove and drain excess oil.
8. Serve as a snack.
image credit: http://www.flickr.com/photos/vkay/5533554975/