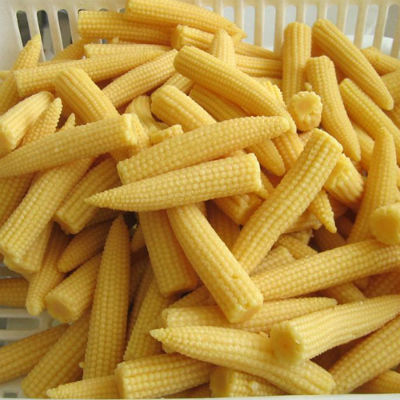 Ingredients:
Baby Corn – 250 gms
Lemon Juice – 1 tsp
Pepper Powder as per taste
Ginger Garlic Paste – 2 tsp
Gram Flour – 1 tsp
Rice Flour – 1 tsp
Onion – 1, big, chopped
Tomato – 1, big, chopped
Green Chillies – 2
Red Chilli Powder – 2 tsp or as per taste
Garam Masala Powder – 2 tsp or as per taste
Coriander Powder – 1 1/2 tsp
Turmeric Powder – 1/4 tsp
Saunf – 1 tsp
Chettinad Powder – 2 tsp (available in most major supermarkets)
Curry Leaves – few
Coriander Leaves – handful
Oil as required
Salt as per taste
Method:
1. Heat a pan of water and bring to a boil.
2. Add the baby corns and soak them for 2 minutes.
3. Drain and cut the baby corns lengthwise. Keep aside.
4. Combine 1 tsp red chilli powder, pepper powder, 1 tsp garam masala powder, lemon juice, salt, turmeric powder, 1 tsp ginger garlic paste and baby corn in a large bowl.
5. Add a little water and mix well.
6. Sprinkle rice flour and gram flour on top.
7. Mix well.
8. Heat oil in a deep frying pan.
9. Fry the baby corn pieces till golden and remove.
10. Drain excess oil and keep aside.
11. In a separate pan, heat a little oil.
12. Saute the saunf, onions and green chillies.
13. Add the remaining 1 tsp ginger garlic paste and fry till the raw smell disappears.
14. Add red chilli powder, coriander powder, turmeric powder, chettinad powder, tomatoes and salt.
15. Simmer for a few minutes and add a little water.
16. Continue to simmer for another 2 minutes or till a nice aroma appears.
17. Add the fried baby corn pieces and cook for a minute or two.
18. Garnish with coriander leaves and curry leaves.
19. Serve hot as a side dish to roti or rice.