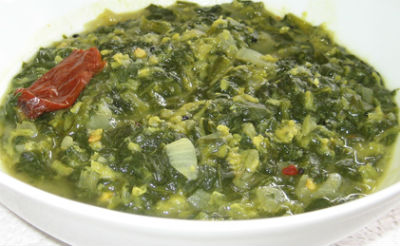 Ingredients:
Arai Keerai – 1 cup, washed, chopped
Mulai Keerai – 1 cup, washed, chopped
Vendhaya Keerai – 1 cup, washed, chopped
Coconut – 1 cup, grated
Moong Dal – 1 cup
Dry Red Chillies – 2
Mustard Seeds – 1 tsp
Cumin Seeds – 1 tsp
Urad Dal – 1 tsp
Curry Leaves – few
Asafoetida Powder – a pinch
Oil as required
Salt as per taste
Method:
1. Boil all the three keerai varieties with little salt.
2. Pressure cook the dal and mash well.
3. Combine the coconut, dry red chillies and cumin seeds. Grind them together.
4. In a large pan, combine the boiled keerai, dal and ground paste.
5. Bring to a boil.
6. Heat oil in a pan.
7. Fry the mustard seeds, urad dal and add this to the keerai mixture.
8. Mix well.
9. Add curry leaves and asafoetida powder.
10. Cook till done.
11. Remove and serve hot.
Note: image is for illustration purposes only and not that of the actual recipe.