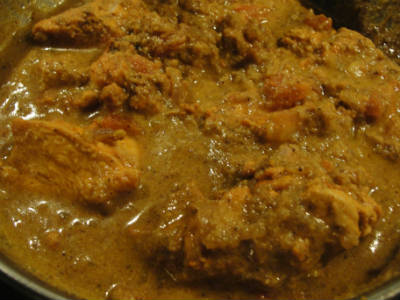 Ingredients:
Chicken – 1, medium, chopped, cleaned, washed and trimmed
Onion – 1, chopped
Tomato – 1, seeded, finely chopped
Sugar – 1/2 tsp
Tamarind Extract – 2 tblsp, thick
Oil – 2 tsp
Mustard Seeds – 1/2 tsp + 1/4 tsp
Fenugreek Seeds – 1/4 tsp
Dry Red Chillies – 3 + 2
Curry Leaves – few
Salt as per taste
For the marinade:
Turmeric Powder – 1/2 tsp
Red Chilli Powder – 1/2 tsp
Ginger Garlic Paste – 2 tsp
Oil – 1 tsp
For the masala:
Coconut – 1/2, grated
Garlic – 3 cloves
Ginger – 1/4 inch piece
Cumin Seeds – 1/2 tsp
Coriander Seeds – 3/4 tsp
Black Peppercorns – 3/4 tsp
Cloves – 2
Cinnamon – 1/4 inch stick
Turmeric Powder – 1/4 tsp
Red Chilli Powder – 1/2 tsp
Salt as per taste
Method:
1. Combine the marinade ingredients in a bowl and add the chicken pieces.
2. Mix well until evenly coated and cover with a lid.
3. Keep the bowl in the fridge for 60 minutes.
4. Heat a pan for the masala over medium flame.
5. Add all the masala ingredients and dry roast for a minute or two.
6. Remove and grind together with little water to a fine paste.
7. Heat 2 tsp of oil in a large pan.
8. Saute the mustard seeds ad fenugreek seeds for 30 seconds.
9. Add the red chillies, curry leaves and onions to the pan.
10. Fry till the onions turn golden.
11. Add the masala paste and fry for a minute or two.
12. Add a little water and fry till oil starts to float to the top.
13. Add the tomatoes, salt and sugar.
14. Fry till the tomatoes are mashed well.
15. Add the tamarind extract and mix well.
16. Sprinkle salt on the chicken and add to the pan.
17. Fry till the chicken pieces are well coated and browned.
18. Pour enough water to cover the chicken and mix well.
19. Bring to a boil and reduce flame to low.
20. Cover with a pan and simmer for 2 hours or till tender and cooked.
21. Remove the lid and cook till the gravy becomes thick.
22. Meanwhile, heat little oil for tempering.
23. Fry 1/4 tsp mustard seeds, 2 dry red chillies and curry leaves for 30 to 45 seconds.
24. Add the curry and mix well.
25. Serve hot with rice.
image credit: iamcookingtoday.wordpress.com