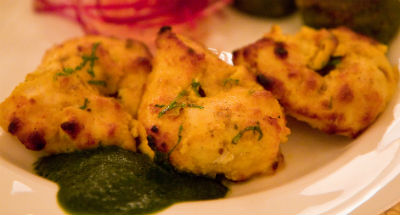 Ingredients:
Chicken Breasts – 2, cubed, boneless
Yogurt – 5 tblsp
Garlic Paste – 1/2 tsp
Ginger – 3/4 tsp, finely chopped
Onion – 1/2, small, grated
Red Chilli Powder – 1/2 tsp
Coriander Powder – 1/2 tblsp
Butter for basting
Salt as per taste
Method:
1. Mix yogurt, garlic paste, ginger, onions, red chilli powder, coriander powder and salt in a bowl.
2. Marinate the chicken cubes in this and keep it in the fridge for 8 hours covered.
3. Skewer the chicken and roast in a preheated oven at 180C/350F for 6 to 8 minutes or until cooked, basting once or twice with butter.
4. Remove and transfer to a serving plate.
5. Garnish with lemon wedges, onion rings and serve at once.
Note: image is for illustration purposes only and not that of the actual recipe.
image credit: flickr.com/photos/garrettziegler/6737357951/