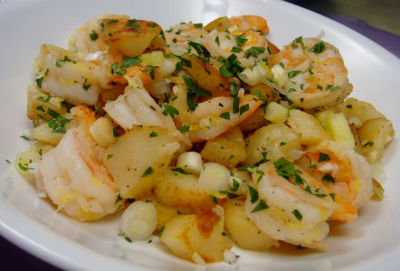 Ingredients:
Prawns – 225 gms, shelled, deveined, washed
Potatoes – 225 gms, peeled, cubed
Oil – 1 tblsp
Curry Leaves – 3
Garlic – 4, chopped
Coriander Leaves – 1 tblsp, chopped
Salt as per taste
Lemon Juice – 1 tsp
Grind together:
Dry Red Chillies – 3
Vinegar – 3/4 tblsp
Onions – 3 to 5 tblsp, chopped
Garlic – 3 cloves
Cumin Seeds – 1/2 tsp
Turmeric Powder – 1/4 tsp
Method:
1. Marinate the prawns with lemon juice and salt.
2. Combine the ground paste with potatoes and keep aside for 60 minutes.
3. Heat oil in a pan over moderate flame.
4. Saute the garlic, green chillies and curry leaves.
5. Add the potatoes and cook for 3 to 5 minutes, stirring often.
6. Pour some water to cover the potatoes and reduce flame.
7. Cover the pan and simmer for 45 minutes or till potatoes are cooked and a thick gravy remains.
8. Add the prawns and increase flame to medium.
9. Cook for 2 minutes and add salt.
10. Stir and garnish with coriander leaves.
11. Serve hot.
Note: image is for illustration purposes only and not that of the actual recipe.