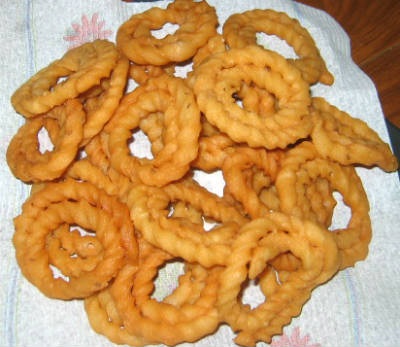 Ingredients:
Raw Rice – 4 cups
Urad Dal – 1/2 cup
Butter – 50 gms
Cumin Seeds – 1 1/2 tblsp
Oil – 500 ml
Salt – 1 1/2 tblsp
Asafoetida Powder – 1 tblsp
Coconut Oil – 2 tblsp
Method:
1. Soak the rice for 30 minutes in water.
2. Drain and spread out to dry under the shade.
3. Dry roast the urad dal till golden.
4. Separately grind the rice and dal to a smooth powder in a flour mill.
5. Sieve them separately and keep aside.
6. For 1 part of dal flour add 8 parts of rice flour and mix well.
7. Add salt, asafoetida powder, cumin seeds and butter.
8. Mix them to a semi-thick and pliable dough.
9. Pinch a small lemon sized ball of the dough.
10. Add the dough to a murukku press and press them onto a cloth, forming small or medium size murukkus
11. Allow it to dry for a few minutes. The murukkus should not be completely dried. They should still be little damp/wet.
12. Heat oil in a deep frying pan.
13. Add the murukkus and fry till light golden brown.
14. Remove and drain excess oil.
15. Store in an airtight container.
16. Serve.