Bhindi Masala is a easy to make, popular side dish for rotis, naan or rice. A typical North Indian semi dry (sometimes dry) side dish, this is one of the popularly ordered dish in restaurants across India.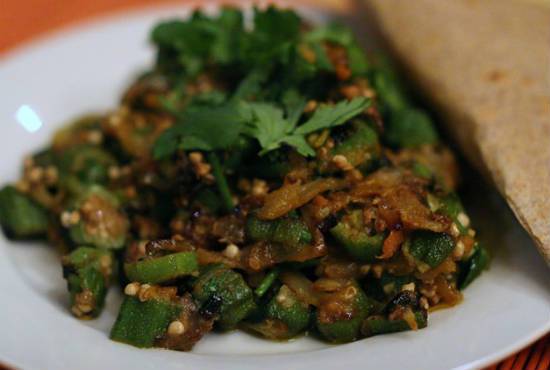 Ingredients:
Bhindi (Okra/Ladyfinger) – 250 gms, washed, dried with a dry cloth, chopped
Oil – 2 tblsp
Onion – 1, chopped
Ginger Garlic Paste – 2 tsp
Green Chillies – 1/2 tsp, finely chopped
Red Chilil Powder – 1/2 tsp
Garam Masala Powder – 1/2 tsp
Dry Mango Powder – 1/2 tsp (optional)
Cumin Seeds – 1/2 tsp
Turmeric Powder – 1/2 tsp
Coriander Powder – 1/2 tsp
Salt as per taste
Coriander Leaves – little, to garnish
Method:
1. Heat 1 tblsp oil in a pan over medium flame.
2. Add the chopped bhindis and saute for 2 to 3 minutes, stirring all the time.
3. Sprinkle a bit of dry mango powder, if using and cook for 3 to 4 minutes.
4. Remove and transfer to a bowl.
5. Heat the remaining oil in the pan.
6. Fry the turmeric powder and cumin seeds for 20 seconds.
7. Add the onions and saute until light brown.
8. Add the ginger garlic paste and green chillies.
9. Cook for 30 to 45 seconds.
10. Add the garam masala powder, red chilli powder, coriander powder, salt and stir well.
11. Add the reserved bhindis and cook for a minute or two. Sprinkle a little water if required.
12. Remove and transfer to a serving bowl. Garnish with coriander leaves.
13. Serve with rice, roti or naan.