Sweet Potatoes are a healthy and nutritious vegetable rich in vitamins, fiber and anti-oxidants. This Bombay Sweet Potatoes recipes is a perfect accompaniment to your main course – rice or roti.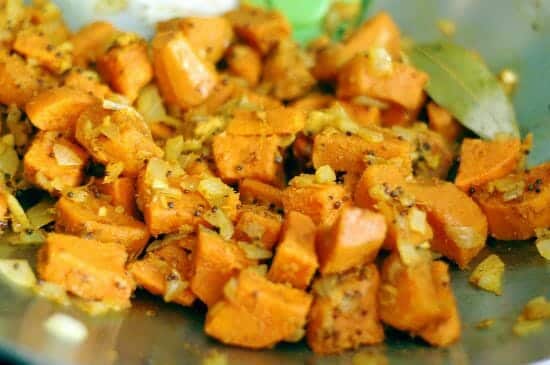 Ingredients:
Sweet Potatoes – 125 gms, chopped
Garlic – 1 small clove, peeled, chopped
Onion – 1 small, chopped
Garam Masala Powder – 1 1/2 tsp
Plain Yogurt – 3 tsp (optional)
Green Chillies – 1/2 tsp, finely chopped
Coriander Leaves – handful, chopped
Cumin Seeds – 1/2 tsp
Oil – 3 tsp
Mustard Seeds – 1/4 tsp
Salt as per taste
Method:
1. Heat 2 tsp oil in a pan over low flame.
2. Fry the cumin seeds and mustard seeds for 30 seconds.
3. Add the garlic and cook for another 30 seconds.
4. Add the sweet potatoes and sprinkle a bit of salt.
5. Stir well.
6. Cover the pan with a lid and cook for 5 to 10 minutes, stirring from time to time.
7. Mix the garam masala powder and yogurt (if using) in a bowl.
8. Heat the remaining oil in a pan.
9. Saute the onions for a minute or two.
10. Add some salt and saute until until light brown.
11. Add the yogurt mixture and cook for a minute.
12. Add this to the sweet potato along with the green chillies.
13. Stir and cook for 2 to 3 minutes.
14. Garnish with the coriander leaves.
15. Serve.