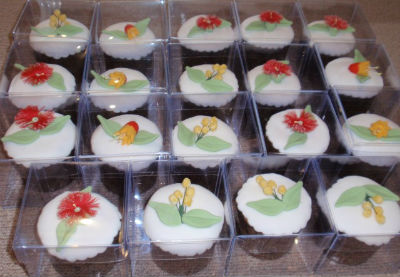 Ingredients:
Egg – 1, small
Butter – 4 to 4 1/2 tsp, soft
Maida – 2 tblsp
Baking Powder – 1/4 tsp
Caster Sugar – 4 tsp
Mini cake cups

For the icing:
Icing Sugar – 2 tblsp
Water – 1/4 tblsp
Candies, Sprinkles, Gems to garnish
Method:
1. Combine and mix together the egg, butter, maida, baking powder and caster sugar.
2. Beat well until fully blended.
3. Spoon the mixture into the cake cups. Fill only 3/4ths.
4. Place them on a baking tray and bake in a preheated oven at 180C for 10 to 15 minutes until well risen and firm.
5. Remove and cool.
6. To make the icing, mix the icing sugar with enough water to a spreading consistency.
7. Add a little on top of each cake and spread.
8. Garnish as desired.
9. Serve when the icing has set.
Note: image is for illustration purposes only and not that of the actual recipe.
Image credit: Laura