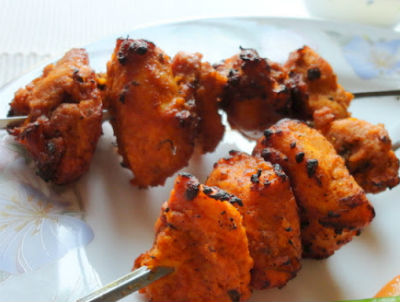 Ingredients:
Chicken – 250 gms, cut into bite-sized pieces
Lemon Juice – 2 tblsp
Ginger Garlic Paste – 3/4 tblsp
Black Pepper Powder – 1/2 tsp
Kashmiri Chilli Powder – 3/4 tsp
Salt – 1/4 tsp
For the marinade:
Hung Curd – 1 cup
Paneer – 1/4 cup
Black Salt – a pinch
Fenugreek Leaves – 1/2 tblsp, dry
Besan Flour – 2 1/2 tblsp
Mustard Oil – 2 1/2 tblsp
Butter – 1/2 tblsp
Red-Orange Food Colour – a small pinch
Chaat Masala – 1/2 tsp
Garam Masala Powder – 1/4 tsp
Jeera Powder – 1 tsp
Mace Powder – 1/8 tsp
Clove Powder – 1/8 tsp
Method:
1. Combine the lemon juice, ginger garlic paste, kashmiri chilli powder, pepper powder and salt in a bowl.
2. Marinate the chicken pieces in this mixture for 45 minutes.
3. Heat little oil in a pan over low flame.
4. Add besan flour and stir for 2 to 3 minutes or till besan starts to change colour.
5. Remove and cool.
6. Mix the paneer and butter in a plate and rub till smooth.
7. Add the hung curd and mix thoroughly.
8. Add oil and besan flour.
9. Add all the other marinade ingredients and mix till smooth.
10. Add the chicken pieces and mix.
11. Place them in the fridge for a few minutes.
12. Keep the marinated chicken pieces in a greased baking tray lined with foil.
13. Rub any left over marinade on the chicken.
14. Cook in a preheated oven at 180C for 10 to 13 minutes till well-browned and cooked.
15. Remove and serve hot with green chutney.
Image credit: Sangeeta Madhav