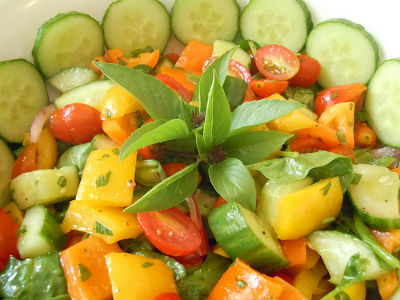 Ingredients:
Apples – 4, cored, quartered, cut into small pieces
Carrots – 7 to 8, grated
Cabbage – 1, large, cored, shredded
Sunflower Seeds – 2 handfuls, shelled
Peanuts – 2 handfuls, salted
For the Dressing:
Soy Sauce – 3 tblsp
Green Chillies – 2, finely chopped
Garlic – 2 cloves, finely chopped
Juice of 2 Large Lemons
Sugar – 3 tsp
Coriander Leaves – large handful, finely chopped
Salt as per taste
Black Pepper Powder as per taste
Method:
1. Combine all the dressing ingredients in a large bowl.
2. Mix well until sugar and salt has dissolved.
3. Keep aside.
4. Add the carrots, cabbage, apples and sunflower seeds to a bowl.
5. Drizzle over the dressing.
6. Toss well so that all the ingredients are coated with the dressing.
7. Transfer to a individual serving bowls/plates.
8. Garnish with peanuts and serve.
Tip: You can also use Cucumber, Capsicum, Grapes, Tomatoes or any other fruit/veg if desired.
image credit: Culinary Artisan