Fresh and easy to make, this tomato and mozzarella salad is a great way to start your meal or ideal for a quick bite.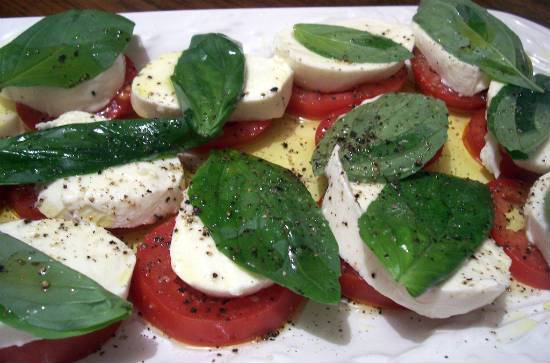 Ingredients:
Plum Tomatoes – 4, ripe, sliced
Cherry Tomatoes – 3, halved
Onion – 1/2, small, sliced
Basil Leaves – few, torn
Mozzarella Cheese – 1/2 to 1 cup, shredded or torn into small pieces
Arugula (or Lettuce) Leaves – few, torn
Balsamic Vinegar
Sea Salt
Black Pepper Powder
Extra Virgin Olive Oil

Method:
1. Place the tomatoes, onion, few basil leaves in a bowl.
2. Drizzle generously with olive oil.
3. Add salt and black pepper.
4. Toss well to coat them evenly.
5. Arrange the arugula leaves on a plate and sprinkle little olive oil and vinegar.
6. Sprinkle some salt and pepper.
7. Spoon over the tomato mixture.
8. Scatter the mozzarella cheese and basil leaves.
9. Drizzle with more olive oil and vinegar.
10. Serve at once.