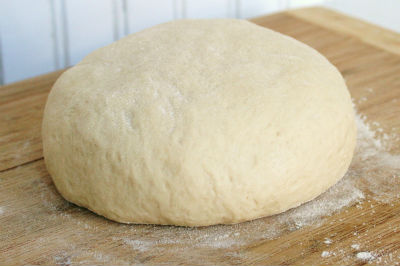 Ingredients:
Maida – 1 1/4 to 1 1/2 cups
Salt – 1/2 tsp
Warm Water – 1/2 cup
Sugar – a small pinch
Active Dry Yeast – 1 1/4 tsp

Method:
1. Combine the yeast, sugar and water in a bowl.
2. Mix until yeast and sugar dissolves.
3. Keep aside for 3 to 5 minutes.
4. Mix the flour and salt in a bowl.
5. Add the yeast mixture and knead until well combined.
6. Once the dough leaves the sides of the bowl, transfer it to a floured surface.
7. Use a bit more maida to make it smooth and keep kneading for another 4 to 5 minutes.
8. Divide the dough into half and shape each half into a ball.
9. Place them on a lightly floured surface and cover with a kitchen towel for 5 to 10 minutes.
10. After 10 minutes use the dough to make the pizza of choice.