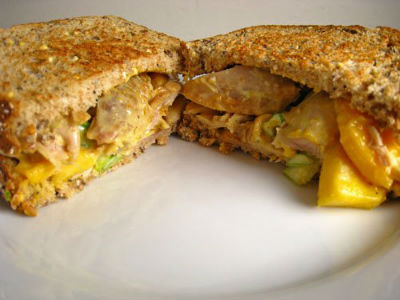 Ingredients:
Chicken Leg – 100 gms, boneless, skinless
Onion – 1/4 cup, sliced
Curry Powder – 1/2 tsp
Sage – 1/8 tsp, chopped
Basil – 1/8 tsp, chopped
Mango Pieces – 1 tsp
Butter – 1 tsp
Bread Slices – 3, crusts removed
Oil
Salt
Pepper
Method:
1. Mix the chicken, onion, curry powder, sage and basil in a bowl.
2. Add enough oil and mix well to lightly coat the chicken.
3. Spread this on a baking tray and roast in a preheated oven at 425F for 10 minutes.
4. Remove and cool.
5. Once cooled, put the chicken mixture to a food processor/mixer (along with any juice in tray) and chop/grind till chunky.
6. Add mango slices, salt and pepper.
7. Spread this mixture on one slice of bread.
8. Place one more slice on top and spread another layer of chicken mixture.
9. Cover with the third slice and cut into squares or rectangles.
10. Serve with ketchup.