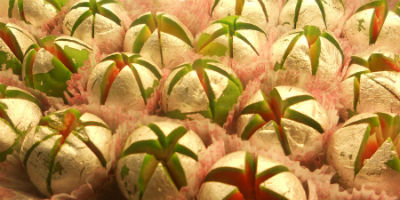 Ingredients:
Cashewnuts – 100 gms, powdered
Sugar – 100 gms
Glucose – 1/2 tsp, mixed with little water
Edible Food Colour – little (as per choice – red, green, yellow, orange, etc.)
Water – 50 ml
Milk – little, to remove any impurities
Silver Warq for decoration
Method:
1. Mix sugar and water in a pan.
2. Place over moderate heat and cook.
3. Add 1 to 2 tsp of milk and remove any impurities that float to the surface.
4. Drain and transfer to another pan.
5. Place over moderate heat and cook till a one string consistency is reached.
6. Add powdered cashews and keep stirring constantly.
7. Add liquid glucose and stir.
8. Continue to simmer till it achieves a dosa batter like consistency.
9. Remove and keep aside to cool.
10. Once it has reduced to a chapati dough like consistency, divide into 3 or more portions.
11. To each portion add one food colour and shape them into flowers.
12. Decorate with the silver warq.
13. Arrange on a plate and serve.
Note: An easy way to make the flowers is to shape them into oblong (or any other shapes) and then carve the petals using a knife.