Indulge in the elegance of Kaju Flowers, delicate and delightful cashew sweets that are perfect for special occasions. These edible blooms are a feast for the eyes and the taste buds.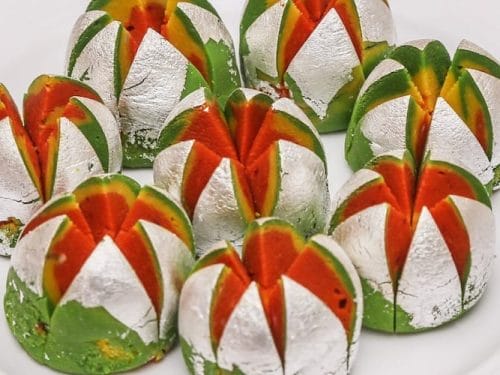 Kaju Flowers are a testament to the artistry of Indian sweets. These delicate, handcrafted cashew confections are perfect for celebrations, gifting, or simply indulging your sweet tooth. Kaju Flowers are a visual and culinary masterpiece with their beautiful floral shapes and melt-in-the-mouth texture.
The process begins with creating a sugar syrup, carefully cooked to a one-string consistency. This syrup forms the base for the sweet, adding a perfect balance of sweetness to the naturally nutty flavour of cashews. The cashew powder is then mixed in, creating a smooth and creamy mixture.
Edible food colour is added to give the Kaju Flowers their vibrant colours. You can choose your preferred shade: classic pale yellow, deep red, lush green, or any other hue that suits the occasion.
Shaping the cashew mixture into intricate flower designs is the natural artistry of this recipe. While the classic method carves petals using a knife, you can experiment with various shapes and patterns, allowing your creativity to blossom.
Finally, a silver warq adds elegance to these edible flowers, making them suitable for special occasions and gifting. Kaju Flowers are not just a sweet treat but a work of edible art, perfect for adding a touch of sophistication to your dessert table.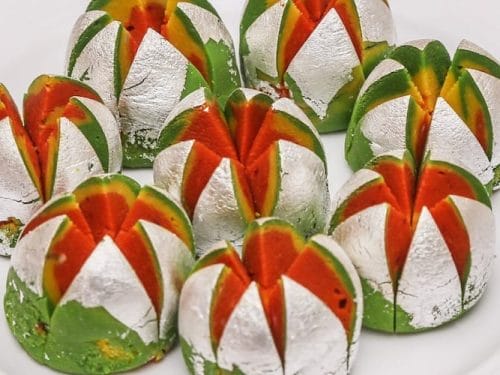 Kaju Flower
Indulge in the elegance of Kaju Flowers, delicate and delightful cashew sweets that are perfect for special occasions. These edible blooms are a feast for the eyes and the taste buds.
Ingredients
100

gms

Cashewnuts (powdered)

100

gms Sugar

1/2

tsp

Glucose (mixed with a little water)

Edible Food Colour (as per choice - red, green, yellow, orange, etc.)

50

ml

Water

A small amount of Milk (for removing impurities)

Silver Warq for decoration
Instructions
In a pan, mix sugar and water.

Heat over medium heat and cook.

Add 1 to 2 teaspoons of milk to the boiling syrup and remove any impurities that rise to the surface.

Drain the syrup and transfer it to another pan.

Heat it over moderate heat until it reaches a one-string consistency.

Add the powdered cashews and stir continuously.

Add liquid glucose and continue to stir.

Simmer until the mixture reaches a consistency similar to dosa batter.

Remove from heat and let it cool.

Once it attains a chapati dough-like consistency, divide it into 3 or more portions.

To each portion, add your chosen food color and shape them into flowers.

Decorate each Kaju Flower with a touch of silver warq.

Arrange the Kaju Flowers on a plate and serve.
Note: An easy way to make the flowers is to shape them into oblong (or any other shapes) and then carve the petals using a knife
Frequently Asked Questions (FAQ):
Can I use other nuts instead of cashews for Kaju Flowers?
While cashews are traditionally used for Kaju Flowers, you can experiment with other nuts like almonds or pistachios to create variations like Badam Flowers or Pista Flowers.
How long can I store Kaju Flowers?
Kaju Flowers have a good shelf life. They can last for several weeks when stored in an airtight container in a cool, dry place, making them a perfect gift choice.
Can I make Kaju Flowers without food colouring?
You can omit food colouring if you prefer a natural look. The colour of the cashews and silver warq will still make these sweets visually appealing.
Are Kaju Flowers difficult to shape?
Shaping Kaju Flowers requires some practice, but it's a fun and creative process. If you're new to it, start with simple shapes, and as you gain confidence, you can experiment with more intricate designs.
What occasions are Kaju Flowers suitable for?
Kaju Flowers are versatile and can be served at various celebrations, including weddings, festivals, birthdays, and as gifts during special occasions.
Kaju Flowers are a delightful blend of art and flavour. They make any occasion more elegant and memorable. Whether you're a seasoned sweet-maker or a novice in the kitchen, crafting these edible flowers is a rewarding experience. So, let your creativity blossom, and enjoy the sweet beauty of Kaju Flowers.