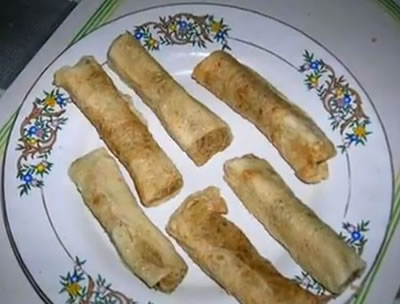 Ingredients:
Plain Flour – 3/4 cup
Baking Powder – a small pinch
Salt – a pinch
Egg – 1, small
Sugar – 1/2 tblsp, granulated
Milk – 1/4 cup
Water – 1/4 cup
For the filling:
Sugar – 1 1/2 tblsp
Coconut – 1 cup, grated
Margarine for frying (or low-fat butter)
Method:
1. Mix the flour and baking powder in a bowl.
2. Beat the egg with sugar till frothy and pour the milk and water.
3. Pour this over the flour and stir vigorously.
4. Beat well for a minute till no lumps remain.
5. Keep aside for 15 to 25 minutes.
6. Meanwhile, grease a medium frying pan lightly with margarine and place over low-medium flame.
7. Add 1 to 2 tblsp of batter into it and tilt to coat evenly.
8. Cover and cook for a minute.
9. Then remove the pancake from the pan and transfer to a plate.
10. Repeat till all batter is used up.
11. To make the filling, add sugar and coconut to a pan and cook for 10 to 30 seconds.
12. Remove and cool.
13. Place a little filling on each pancake and roll lightly.
14. Serve.