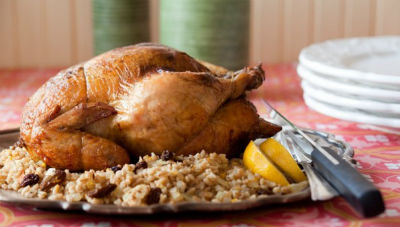 Ingredients:
Chicken – 500 gms, with skin and kept whole, washed inside and out
Oil – 1 3/4 cups
For the stuffing:
Eggs – 2, hard-boiled
Red Chilli Powder – 1/2 tsp
Salt – 1/4 tsp
Oil – 1 1/2 tblsp
Onion – 1 to 2, chopped
Green Chillies – 3, chopped
Ginger – 1 two inch piece, chopped
Garlic Cloves – 2, chopped
Grind to a fine paste:
Ginger – 1 two inch piece, chopped
Green Chillies – 3, chopped
Garlic Cloves – 2, chopped
Curry Leaves – handful
Red Chilli Powder – 1/2 tsp
Black Pepper Powder – 1/4 tsp
Turmeric Powder – 1/2 tsp
Malayali Five Spice Powder – 1/8 tsp
Salt – 1/4 tsp
Water – 2 tsp
Method:
1. Peel eggs and score with a knife.
2. Mix the chilli powder and salt.
3. Roll eggs in mixture to coat thoroughly.
4. Heat oil a pan.
5. Fry the eggs lightly.
6. Remove, drain and set aside.
7. Add onions to pan and fry till translucent.
8. Add green chillies, ginger and garlic.
9. Fry for about 3 to 5 minutes, stirring constantly.
10. Stuff the chicken with eggs and onion mixture.
11. Close the opening by sewing with needle and thread.
12. Rub the ground masala over chicken and keep aside to marinate for 2 hours.
13. Heat oil in a pan.
14. Deep fry the chicken till it is cooked and brown, turning frequently.
15. Remove and drain excess oil.
16. Serve hot with rice.
Note: image is for illustration purposes only and not that of the actual recipe.