A delicious Thai style Chicken stir-fry with ginger and spring onions. Best served with hot, steamed rice.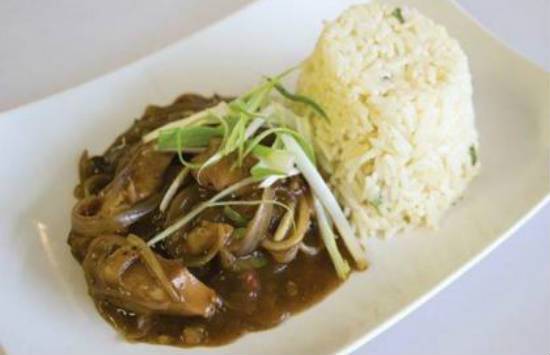 Ingredients:
Chicken Breasts (or Thighs) – 4, chopped, skinless, boneless
Maida (Plain Flour) – 1/2 cup
Oil – 1/2 cup
Ginger – 2 tblsp, finely chopped
Spring Onions – 2 tblsp, finely chopped
Soy Sauce – 1 tblsp
Sugar – 1 tblsp
Water – 1/2 cup
Cornflour – 1 tsp, mixed with 1 tsp water
Salt as per taste
Black Pepper Powder as per taste
Method:
1. Heat oil in a pan over medium flame.
2. Mix the flour, salt and pepper powder in a bowl.
3. Dip each chicken piece in the flour mixture and add to the hot oil.
4. Fry until golden brown and remove.
5. Leave only 2 tblsp of oil in the pan and remove the excess.
6. Add the spring onions and ginger.
7. Saute for a minute.
8. Add the soy sauce and sugar.
9. Stir well and pour the water.
10. Add the cornflour paste and stir well.
11. Add the chicken pieces and simmer for 10 minutes.
12. Serve hot with rice.