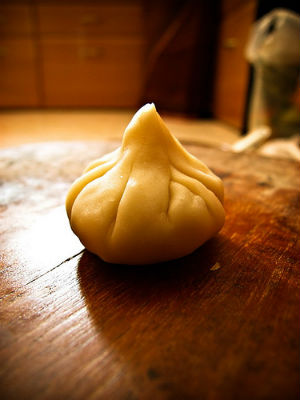 Ingredients:
Raw Rice – 1/2 cup
Moong Dal – 1/4 cup
Jaggery – 3/4 cup, grated
Coconut – 1/4 cup, grated
Ghee – 3/4 tblsp
Cardamom Powder – 1/4 tsp
Water – 1 1/2 cups
Method:
1. Dry roast the dal till golden and powder it to a fine rava consistency.
2. Powder the rice to a similar consistency.
3. Mix both together in a bowl.
4. Heat a pan and add water.
5. As soon as it starts to boil, add the rice-dal mixture, stirring all the time to prevent lumps being formed.
6. Add 1/4 tsp of ghee and mix well.
7. Cover with a lid and cook until water has been absorbed, over low heat.
8. Add jaggery, grated coconut and cardamom powder.
9. Keep stirring until all moisture has evaporated.
10. Add the remaining ghee and mix well.
11. Remove and keep aside to cool.
12. Make medium sized balls and steam cook for 5 to 10 minutes.
13. Serve hot or warm.
Note: image is for illustration purposes only and not that of the actual recipe.
Image credit: anvancy