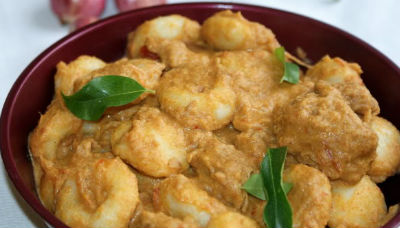 Ingredients:
Parboiled Rice – 5 cups
Coconut – 1, grated
Small Onions – 7 to 8, chopped
Cumin Seeds – 1/4 tsp
Salt – 1 tsp
Water – 1 1/2 cups
Grind to a paste:
Oil – 4 tblsp
Coconut – 2, grated
Small Onions – 8, chopped
Water – 3 cups
For the curry:
Chicken – 1 kg, chopped into small-medium pieces, washed
Onion – 2, chopped
Green Chillies – 4, chopped
Ginger – 3 two inch pieces, chopped
Garlic – 10 to 12 cloves, chopped
Curry Leaves – handful, chopped
Red Chilli Powder – 2 tsp
Turmeric Powder – 2 tsp
Coriander Powder – 2 tsp
Malayali Five-Spice Powder – 2 tsp
Salt – 1 tsp
Method:
1. Soak the rice in hot water overnight.
2. Drain and grind it with the remaining ingredients to a thick dough.
3. Make small marble sized balls of the dough and shape them into a 3 cm round rounds. Gently press in the middle to make a depression.
4. Steam cook for 10 to 15 minutes.
5. Remove and keep aside to cool.
6. To make the ground paste, heat oil in a pan.
7. Fry the coconut till brown.
8. Remove and grind it with remaining ingredients to a fine paste.
9. Reserve pan with oil.
10. To make the curry, add the onions to the pan and fry till translucent.
11. Reduce heat.
12. Add green chillies, ginger, garlic and curry leaves.
13. Fry for 2 minutes.
14. Add the red chilli powder, turmeric powder, coriander, five spice powder and salt.
15. Mix well and fry for 2 minutes.
16. Add the chicken and water.
17. Cover pan with a lid and cook over low heat for 25 minutes till chicken is tender.
18. Add the ground coconut paste and bring to a boil.
19. Add the steamed dumplings and remove from heat.
20. Serve at once.
image credit: Shab's Cuisine