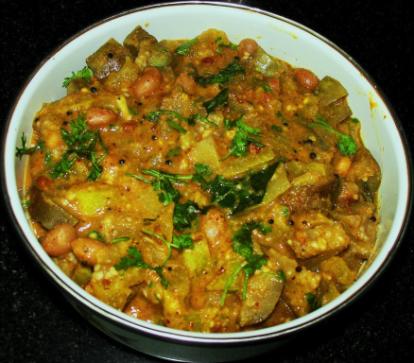 Ingredients:
Bengal Gram Dal – 2 1/2 cups, whole, washed and soaked overnight
Raw Bananas – 8, peeled, cubed
Elephant Yam – 500 gms, cubed
Black Peppercorns – 18 to 20, powdered
Turmeric Powder – 1/2 tsp
Dry Red Chillies – 4, broken into pieces
Salt – 2 tsp
Grind to a paste:
Coconut – 2, grated
Cumin Seeds – 1/2 tsp
Water – 1 cup
For Tempering:
Oil – 3 to 4 tblsp
Mustard Seeds – 2 tsp
Urad Dal – 4 tblsp
Dry Red Chillies – 10 to 12, broken
Coconut – 1, grated
Method:
1. Drain the bengal gram and rinse under cold running water.
2. Heat a pan over medium flame.
3. Add the gram and 2 1/2 cups of water.
4. Increase flame to high and cook for 30 to 40 minutes.
5. Add the bananas, yam, powdered peppercorns, turmeric powder and red chillies.
6. Cook over moderate heat for about 15 minutes till yam is tender.
7. Add salt and cook till it is nearly dry.
8. Remove from heat.
9. Add ground paste and keep aside.
10. Heat oil for tempering.
11. Add the mustard seeds and when it starts to splutter, add the dal and fry till golden brown.
12. Add the red chillies and fry for 45 seconds.
13. Now add the grated coconut and fry, stirring from time to time, till brown.
14. Pour this into the curry.
15. Stir and mix well.
16. Serve hot.