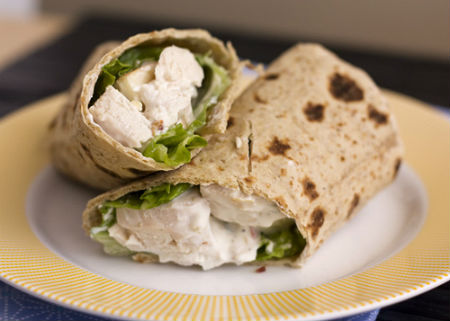 Ingredients:
Chicken Breast – 1 cup, cooked, cubed
Walnuts – 50 gms
Mayonnaise – 1 tblsp
Lemon Juice – 2 tsp
Dijon Mustard – 1 tsp
Thyme – 1 tsp, finely chopped
Apple – 1, diced, about 3/4 cup
Salt as per taste
Plain Yogurt – 1/3 cup
Black Pepper Powder as per taste
Lettuce – 3 to 4 leaves, rinsed and dry
Wheat Wrap Breads – 4 (you can also use soft chapatis)

Method:
1. Heat a pan over medium heat.
2. Add the walnuts and toast for 3 to 4 minutes.
3. Mix the yogurt, mayonnaise, lemon juice, dijon mustard and thyme leaves in a bowl.
4. Stir until smooth.
5. Add the chicken cubes, toasted walnuts and diced apples.
6. Mix well.
7. Add salt and black pepper powder.
8. Mix again until well combined.
9. To make the wrap, place 1 lettuce leaf on a wrap bread.
10. Spoon about 1 cup of the chicken mixture on the lettuce leaf.
11. Fold about an inch over each end of the filling and then roll up to serve.
image credit: handletheheat.com
Subscribe to our Newsletter
Receive the latest recipes & kitchen tips !