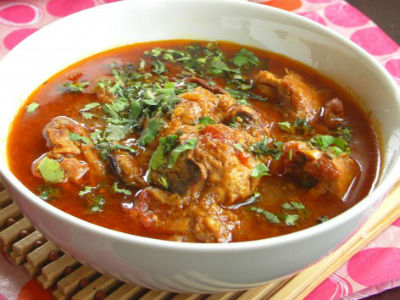 Ingredients:
Chicken Breasts – 1, boneless, skinless, chopped
Garlic – 5 to 6 cloves, crushed
Chicken Stock – 2 cups
Ginger – 1/2 tsp
Onions – 2, finely chopped
Water – 2 cups
Cumin Powder – 1 tsp
Coriander Powder – 2 tsp
Garam Masala Powder – 1/2 tsp
Turmeric Powder – 1 tsp
Green Chillies – 2, finely chopped
Coconut Milk – 1/4 cup
Coriander Leaves – handful, finely chopped
Oil – 2 tsp
Method
1. Heat oil in a pan over medium flame.
2. Fry the chicken pieces until golden.
3. Remove and drain excess oil.
4. To the same pan, add the chopped onions, ginger and garlic.
5. Fry till the onions turn golden brown.
6. Add the cumin powder, coriander powder, turmeric powder, garam masala powder and stir-fry for a minute or two.
7. Pour the chicken stock and water.
8. Bring the mixture to a boil.
9. Add the fried chicken pieces and cover the pan with a lid.
10. Simmer for 45 minutes.
11. After 45 minutes, add the coconut milk and stir well for a minute.
12. Remove and serve hot with rice.