Due to the tropical climate and abundance of coast line, prawns are farmed in abundance in Thailand, and as such are one of the most popular foods in Thailand. Best served with either rice or noodles, this delicious and fragrant dish offers a taste of the exotic in your very own home.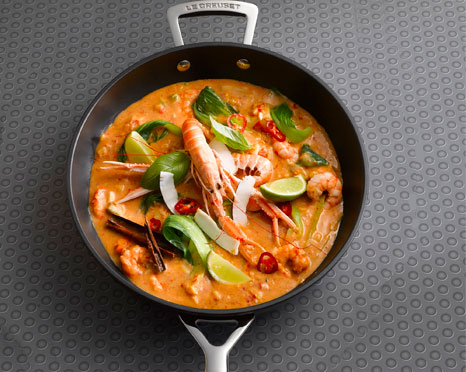 Ingredients:
Vegetable Oil – 1/2 tsp
Sesame Oil – 1/2 tblsp
Garlic Cloves – 2, chopped
Root Ginger – 3 cm, peeled and chopped
Lemon Grass – 1 stick, chopped
Red Thai Curry Paste – 1 tblsp, heapted
Full Cream Coconut Milk – 400 gms
Cardamom Pods – 2, crushed
Cinnamon – 1 stick
Thai Fish Sauce – 1 tblsp
Lime Leaves – 4
Juice of 1/2 Lime
Raw King Prawns – 400 gms, shelled and de-veined
Pak Choi – 2, small and cut in half
To Serve:
Slices of fresh coconut
1 chopped red chilli
1 lime quartered
Fresh basil leaves
Method
1. Heat the oils over a medium heat in the pan.
2. Gently fry the garlic, ginger and lemon grass together for a couple of minutes.
3. Add the Thai curry paste, coconut milk, cardamom pods, cinnamon stick, fish sauce and lime leaves.
4. Bring to a gentle simmer and cook for 15 minutes.
5. Stir in the lime juice, prawns and the pak choi.
6. Place on the lid and cook for 5 minutes until the prawns are pink.
7. To finish add the fresh coconut, chopped chilli, lime quarters and basil leaves.
8. Serve hot.
This is a guest article from Dave Harrison writing on behalf of Le Creuset, manufacturer of high quality pots and pans.