A great starter/appetizer, these Thai fish cakes are a popular street food in Thailand. Simple and easy to make, they are best served with sweet chilli sauce.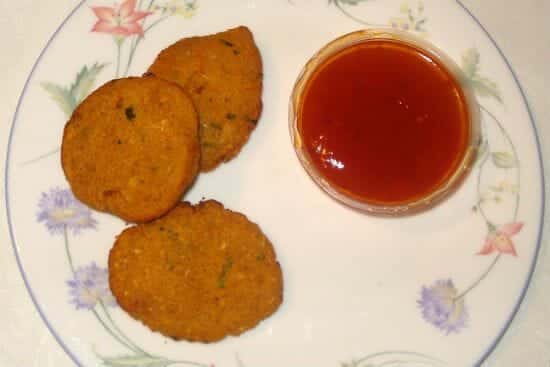 Ingredients:
Firm White Fish Fillets – 400 gms, boneless
Fish Sauce – 3 tsp
Corn Flour – 1/4 cup
Red Chilli Paste – 3 tsp
Lime Zest – 2 to 3 tsp
Spring Onions – 3 to 4, chopped
Coriander Leaves – handful, chopped
Eggs – 2
Coarse Sea Salt – 1 tsp
Oil for frying
Method:
1. Cut the fish fillets into small chunks.
2. Transfer to a bowl.
3. Add the fish sauce, corn flour, red curry paste, lime zest, coriander leaves and sea salt.
4. Break the eggs and mix well.
5. Grind this mixture into a smooth paste in a food processor.
6. Add the spring onions and mix well.
7. Make small balls and flattem them into small patties.
8. Heat oil in a deep frying pan over medium flame.
9. Fry the prepared fish cakes until golden brown and cooked, about 2 to 3 minutes each side.
10. Remove and drain excess oil.
11. Serve with sweet chilli sauce.