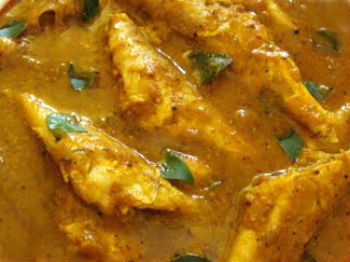 Ingredients:
Fish – 500 gms, any white fish, cut into bite-sized pieces, cleaned, washed, drained
Oil – 1 tsp + 1 tsp
Lime Juice – 2 tsp
Coriander Leaves – 2 tsp, chopped
Mustard Seeds – 1/4 tsp
Fenugreek Seeds – little
Curry Leaves – few
Sambar Onions – 4, julienned
Tamarind Extract – 1/4 cup
Thick Coconut Milk – 1 1/2 cups
Salt as per taste
For the marinade:
Turmeric Powder – 1/4 tsp
Red Chilli Powder – 1/3 tsp
Salt as per taste
Lime Juice – 2 to 3 tsp
Oil – 1 tsp
For the masala:
Garlic – 3 cloves
Ginger – 1/2 inch piece
Black Peppercorns – 1/2 tsp
Cloves – 2
Coriander Seeds – 1/2 tsp
Brown Cardamom – 1
Cinnamon – 1/4 inch stick
Fennel Seeds – 1/2 tsp
Dry Red Chillies – 6 to 8 (long ones and round ones)
Salt as per taste
Oil – 1/4 tsp
Method:
1. Combine all the marinade ingredients in a bowl and massage it evenly on the fish pieces.
2. Cover and keep them in the fridge for 30 to 60 minutes.
3. Dry roast all the masala ingredients, except oil, and transfer to a mixer jar.
4. Add oil and grind to a fine paste.
5. Heat 1 tsp oil in a pan.
6. Fry the mustard seeds, fenugreek seeds and curry leaves.
7. Add the onions and saute for a minute or two.
8. Add the ground masala paste, tamarind extract and mix well.
9. Simmer for 2 minutes and add the coconut milk.
10. Stir gently and reduce flame. Simmer for 10 minutes.
11. Heat 1 tsp oil in a frying pan.
12. Fry the marinated fish till golden brown and crisp on both sides.
13. Remove and drain excess oil.
14. Add the fried fish to the gravy and cook till tender.
15. Garnish with coriander leaves, curry leaves and lime juice.
16. Serve hot with rice.