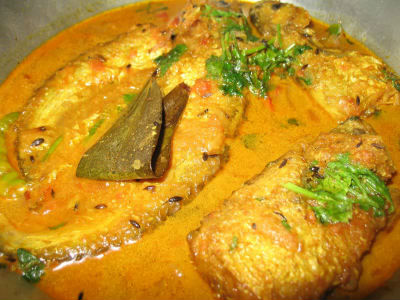 Ingredients:
White Fish Slices – 500 gms
Turmeric Powder – 1/4 tsp
Saunf Powder – 1 tsp
Ginger Powder – 3/4 tsp
Ghee – 3/4 tsp
Ginger Paste – 1 tsp
Yogurt – 3/4 cup
Red Chilli Powder – 1 tsp
Coriander Powder – 1 tsp
Cumin Seeds – 1 tsp
Dry Red Chillies – 3
Salt as per taste

Method:
1. Mix turmeric powder, saunf and ginger powder in a bowl.
2. Marinate the fish slices in this for 1 to 2 hours.
3. Heat ghee in a pan over moderate flame.
4. Fry the marinated fish slices until they start to change colour. Ensure they are not overcooked.
5. Remove and drain excess oil. Keep aside.
6. To the same pan, add the ginger paste, dry red chillies, cumin seeds, coriander powder and red chilli powder.
7. Fry for 45 to 90 seconds and reduce flame.
8. Add the yogurt and cook till the ghee starts to separate.
9. Add the fish slices and salt.
10. Stir well and simmer till fish becomes tender and coated well with masala.
11. Serve hot.
Note: image is for illustration purposes only and not that of the actual recipe.