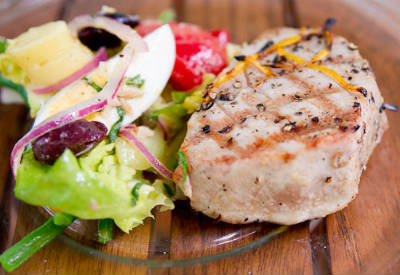 Ingredients:
Tuna Steaks – 250 gms, sliced
Extra-Virgin Olive Oil – 1/2 tblsp
Lemon Wedges to serve
Lettuce – to serve
For the Lemon and Mint Marinade:
Mint Leaves – 1/3 cup, finely chopped
Lemon Zest – 1/2 tsp, grated
Lemon Juice – 2 tblsp
Salt – 1/3 tsp
Red Chilli Flakes – 1/4 tsp
Garlic – 3 cloves, minced
Method:
1. Mix all the marinade ingredients in a bowl.
2. Place the tuna slices on a bowl and pour the marinade over.
3. Cover and keep the bowl in the fridge for 2 to 3 hours.
4. Heat a grill over medium flame.
5. Drizzle some olive oil and cook the marinaed tuna slices for 4 to 5 minutes on each side.
6. Remove and transfer to a serving plate.
7. Serve on a bed of lettuce leaves and lemon wedges on the side.
8. If desired, serve with salad of choice.
Note: image is for illustration purposes only and not that of the actual recipe.